One Ton Van Package  $350/Day + .65/Mile – Driver/Crew member required
Pre-cut Expendable Kit $25.00 – Lighting Packages are customizable.
Our One Ton Grip Van Package is perfect for your smaller shoot. We have designed this package to contain everything you need for a smaller shoot, this package can easily be worked by one our two crew members.
| | |
| --- | --- |
| | Standard Tungsten Lighting (*Billed as used) |
| 2 | *2K Fresnel |
| 3 | 1K Fresnel |
| 2 | 650w Fresnel |
| 2 | 200w Fresnel |
| 2 | Pepper 100w Fresnel |
| 2 | 1k Open Face |
| | Chimera's available upon request |
Practical Bulbs (available upon request)
| | |
| --- | --- |
| | Standard HMI's Package (Billed as used) |
| 1 | Joker 400 |
| 1 | Joker 800 |
| | |
| --- | --- |
| | Standard KINO Package (Billed as used) |
| 1 | Gaffer Kit 2 4ft 4Banks |
| 1 | Fat Boy |
| 1 | 2′ x 2′ Kino |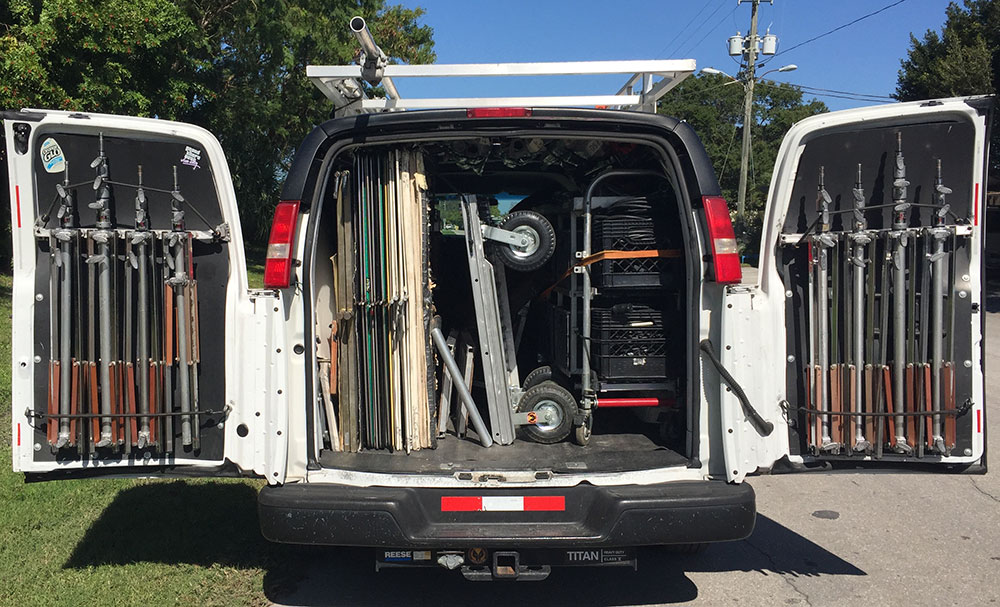 Grip Equipment
4
Double Ended Baby Pins 11″
3
Cardellini Clamp 3″ Center Jaw
3
Cardellini Clamp 3″ End Jaw
1
Speed C-Clamp 1.5″ Pipe
2
Junior to Baby Spud ( Butt plug )
2
Super Mafer Clamp
2
Pipe Clamp – Junior
3
Pipe Clamp – Baby Pin
4
Spring/Pony Clamp #1
8
Spring/Pony Clamp #2
2
Spring/Pony Clamp #3
2
Duck-Bill – Foam Core/Beadboard Clamp
1
Vise Grip – Chain w/Stud
2
Vise Grip- Chain
3
C-Boom Clamp
2
Baby Pigeon Plates
2
Junior Pigeon Plates
8
Grip Head – 4″ ( Lollipops )
5
Ratchet Strap
3
Scissor Clip
5
Safety Cable 1/8″
Rope
4
50' Rigging/Overhead Line "Polyester" 1000lb
working l

o

oad
1
Sash Cord 100'
| | |
| --- | --- |
| | Dimmers |
| 2 | 1K Hand Dimmer |
| | |
| | Edison |
| 6 | 25′ Stingers 12/3 |
| 10 | 50′ Stingers 12/3 |
| 8 | 15A Cube Tap |
| 6 | 3 to 2 Ground Lifts |
| | |
| | |
| --- | --- |
| | C-Stands |
| 8 | 40″ C-Stand w/Arm and Gobo Head |
| 2 | 20″ C-Stand w/Arm and Gobo Head |
| | |
| --- | --- |
| | Light Stands (with baby pins) |
| 2 | Preemie Baby Stand (3′ 3″ max.) |
| 6 | 2 Riser "Beefy Baby" (9′ 5″ max.) |
| 2 | 3 Riser "Beefy Baby" (11′ 6″ max.) |
| | |
| | Combo Stands |
| 2 | Low Combo – 2 Riser Steel Stand (6′ max.) |
| 4 | 2 Riser Steel w/Rocky Mountain Leg (11′ max.) |
| 2 | 3 Riser Steel Combo Stand (14′ max.) |
| | |
| --- | --- |
| | Rags and Frames |
| | 6′ x 6′ (included with package) |
| 1 | Frame (Matthews Style) 5/8 Spud |
| 1 | Single Net |
| 1 | Double Net |
| 1 | Solid |
| 1 | Silk (Poly) |
| 1 | Griffolyn-B/W |
| 1 | Visqueen |
| | |
| | 8'x8′ (included with package) |
| 1 | Frame 1″ Speed-Rail W/Ears |
| 1 | Single Net |
| 1 | Double Net |
| 1 | Solid |
| 1 | Silk (Poly) |
| 1 | Griffolyn-B/W |
| 1 | Visqueen |
| | |
| | 12'x12′ (billed as used) |
| 1 | Frame 1″ Speed-Rail W/Ears |
| 1 | Single Net |
| 1 | Double Net |
| 1 | Solid |
| 1 | Silk (Poly) |
| 1 | Griffolyn-B/W |
| 1 | Visqueen |
| | |
| --- | --- |
| | 18″x24″ Flags |
| 2 | Single Net |
| 2 | Double Net |
| 3 | Solid |
| 2 | Silk (Poly) |
| | 2′ x 3′ Flags |
| 2 | Single Net |
| 2 | Double Net |
| 3 | Solid |
| 2 | Silk (Poly) |
| | 4′ x 4′ Flags |
| 2 | Single Net |
| 2 | Double Net |
| 1 | Triple Net |
| 2 | Silk |
| 3 | Solid – Floppy's |
| 4 | 4′ x 4′ Flat Frames ( Pre-Stretched Standard Flavors ) |
| 2 | 4′ x 4′ Bead Board Bounce W/S |
| 1 | 2′ x 3′ Bead Board Bounce W/S |
| 1 | 2′ x 2′ Bead Board Bounce W/S |
| | |
| --- | --- |
| | Reflectors |
| 2 | 42×42 Silver Reflector (Hard/Soft) |
Carts
1
C-Stand Cart W/4 Full Apple Box Sets & Grip Rigging
1
Tungsten/Electric/Grip Rigging Cart
1
Flatbed Cart

 

2'x3′

 

10″ Pneumatic
Wheels "300lbs max"
1
Combo stand cart
| | |
| --- | --- |
| | Shot Bags |
| 8 | 15 Lb Shot Bags |
| 6 | 25 Lb Sandbags |
| 8 | 35 Lb Sandbags |
| | |
| --- | --- |
| | Wood |
| 4 | Apple Boxes – Full |
| 4 | Apple Boxes – Half |
| 4 | Apple Boxes – Quarter |
| 4 | Apple Boxes – Eighth (Pancake 1″) |
| | |
| --- | --- |
| | Pipe Rigs Sch 40 1.5″ Pipe |
| 1 | 20′  Pipe Rigs 1.5″ diameter |
| | |
| --- | --- |
| | Gels (4′ rolls and pre-cut) |
| 1 | 1000H Tracing Paper 54" wide x 20 yard Roll |
| 1 | Pre-Cut Gel Tube – CTB |
| 1 | Full CTB |
| 1 | 1/2 CTB |
| 1 | 1/4 CTB |
| 1 | Pre-Cut Gel Tube – CTO |
| 1 | Full CTO |
| 1 | 1/2 CTO |
| 1 | 1/4 CTO |
| 1 | 1/8 CTO |
| 1 | .3 Neutral Density |
| 1 | .6 Neutral Density |
| 1 | .9 Neutral Density |
| 1 | Pre-Cut Gel Tube – Diffusion |
| 1 | 216 White Diffusion |
| 1 | 250 Half White Diffusion |
| 1 | 251 Quarter White Diffusion |
| 1 | 410 Opal Frost |
| | |
| --- | --- |
| | Expendables |
| 1 | Blackwrap – 12" wide |
| 2 | Clothespins – 50 Pack |
| 1 | Duvetyne Scrap Bin |
| | |
| --- | --- |
| | Tape |
| 1 | 2" Black Paper Tape |
| 1 | 2" Black Gaffers Tape |
| 1 | 2" White Gaffers Tape |
| 1 | 2" Grey Gaffers Tape |
| | |
| --- | --- |
| | Sprays/Solvents |
| 1 | Alcohol |
| 1 | Dulling Spray (clear) |
| | |
| | Tools |
| 1 | Squeegee & Squirt Bottle |
| | |
| | Miscellanous |
| 4 | Furniture Blanket |
| 2 | Tarps (Various) |
| 4 | Tennis Balls |